Holy Cats, It's a Guest Post by
Justin Edison!

I had the opportunity to host Justin Edison, author of the upcoming thriller The Churning, here on my blogspace-thing. Without further ado, let's get to know him, shall we?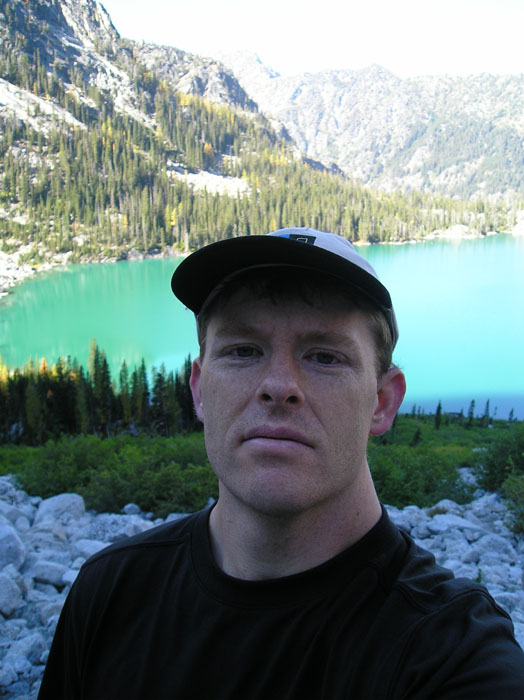 About the Author
Justin A. Edison has been writing fiction and stories for twenty-odd years. A graduate of the Evansville and Hamline writing programs, he counts among his adventures a rocking semester at Harlaxton (in the British Midlands) and a tour of the Czech Republic. His pursuits include hiking, Web site design, trying to fix the world (in too many ways) and playing soccer (rather poorly). He lives in the Seattle area with his wife, two energetic kids and a vocal cat.
The Churning is his second novel.
Follow him on Twitter and Facebook!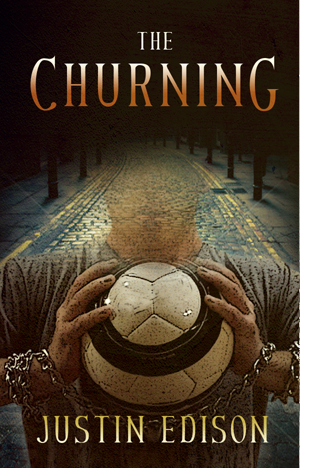 About The Churning
In Justin Edison's second novel, Persian-American soccer star Arman Hessabi wakes in chains in a house of enemies. Driven in part by an abusive older brother, the hero feels his life is complete with the glory, women and riches afforded by a Premier League striker's lifestyle. But he meets his match in Fat Man, Captain, Huck and Kay—men who hold him in thrall somewhere in Europe. Through trials, Hessabi comes to question his own ego and position in life. But is it too late for a soccer star with no apparent power over his own fate?
A Sneak Peek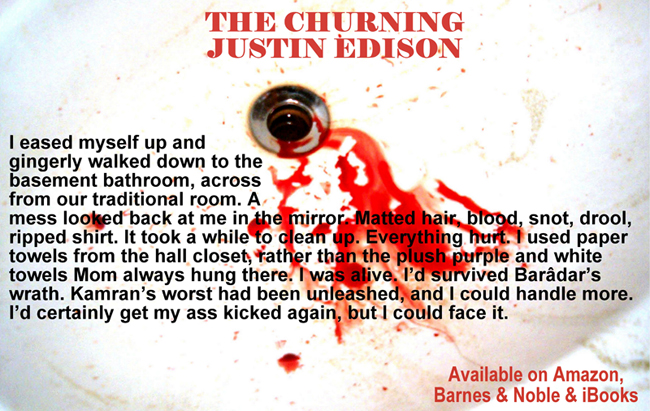 The Part Where I Ask Questions
So, for The Churning, what I would like to know is what, according to you, makes a good thriller? Where do you take inspiration from? How do you make sure that all the right notes are hit?
Hi,
These are great questions, so here goes…
To make a great thriller, you first have to start with what's credible. I'm fine with science fiction and otherworldly stuff, but the author has to do a really good job of selling it. You've got to convince readers that this is the world you're making, this is the character you're using and this is what they go through. If you're not sure, check with a pragmatist (for me, my wife) or check in history. So many bizarre, astounding things have happened in documented history that there's probably a precedent of sorts for your idea. If not, you may need to think it over.
The inspiration for "The Churning" honestly came from my first novel, which is also a sports-kidnapping story. Hero Arman Hessabi, though phenomenally talented, is almost the polar opposite of the victim in my first book. I think it was more that I had such a fun time writing "Watching the World Fall" (after years of bumbling mistakes) that I wanted to keep going. That story ended, but a door of possibilities was opened. I ask a lot of 'what-if's in this job. I'm lucky because that seems to come naturally to me.
As far as the third question…that's a tough one. I knew right from the get-go that there would be massive, ugly exchanges between my hero and his chief antagonist, Fat Man. Back in college, screenwriting professor Bill Baer gave us a great directive: Put your hero in a tree, then throw rocks at him. I wanted to make sure the rocks could get progressively worse but also be believable and fit with the story. Again, there's that 'realistic' issue coming up: What was within the villains' power to do? How do I shape and temper that based on the villains I've got? These guys weren't going to go blow up a building or something—there'd be no point in that. I let my bad guys dictate the road map, and I think it's worked out well.
Many thanks,
Bloggers! Are you interested? Review copies are available!
< PREVIOUS ENTRY • NEXT ENTRY >
Advice • Fiction • Gaming • General Musings • Reviews