Summer 2017 Reads
Four Fantastical Ways
to Lose Your Fingers
An Anthology
  My fourth Summer 2017 read was Four Fantastical Ways to Lose Your Fingers.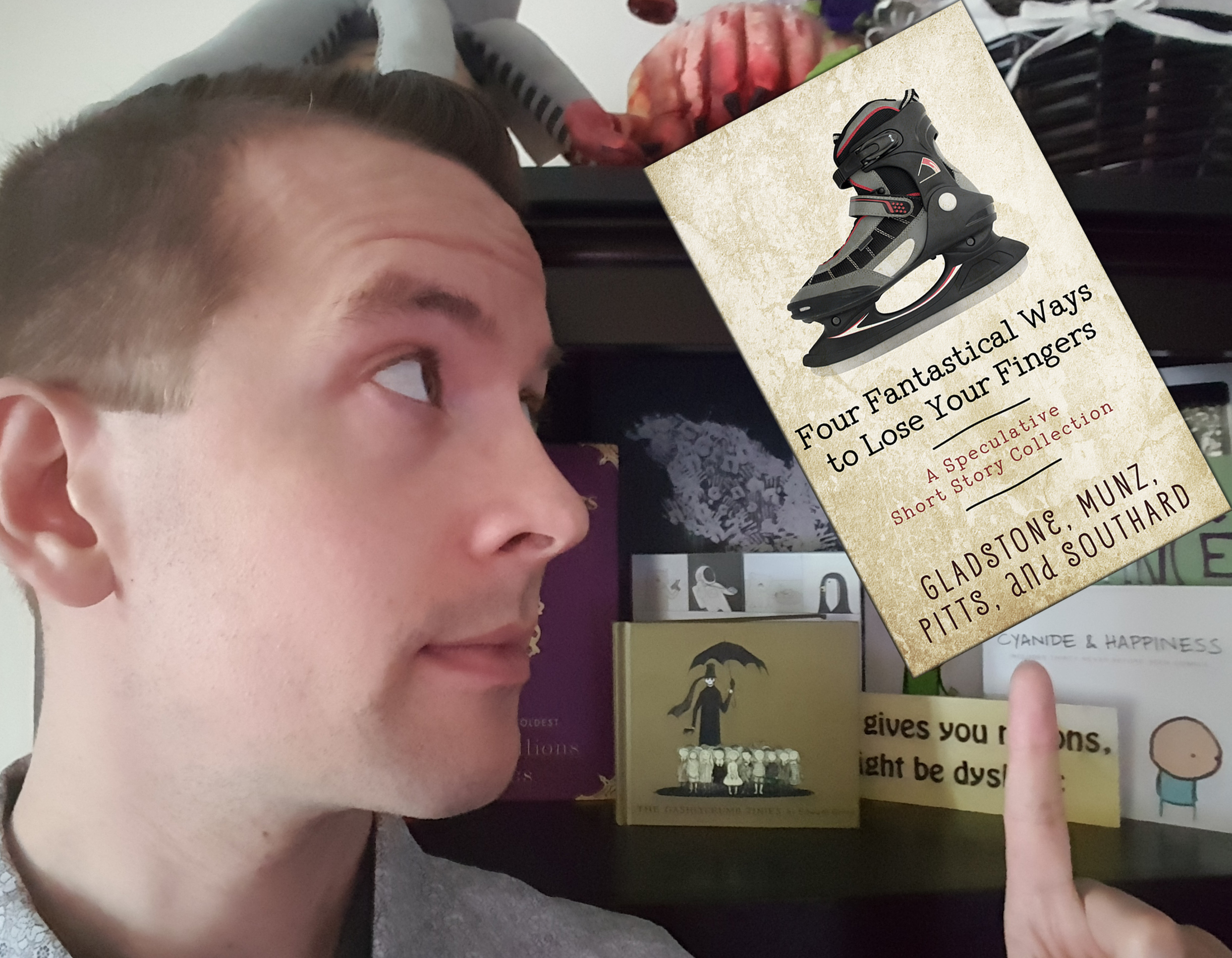 Thanks to the magic of image editing software, it's exactly like I had a physical copy!
It is a short story anthology by Z. D. Gladstone, Michael Munz, Tiffany Pitts, and Janine Southard all unified by the removal of fingers. It's not nearly as morbid as it sounds.
  Munz's story is first, and if you are a fan of his previous Zeus is Dead (as I am) or his cyberpunk series (which I have not had the time to read quite yet), you are in for a cross over treat! Even if you are completely unfamiliar with his previous work, "Mything Digits" is an approachable romp with Hermes and Thalia the muse as they attempt to reacquire the missing MacGuffin, Hephaestus's Fingers. Hopping into a pocket dimension of sorts brings them into contact with an assortment of characters both quasi-friendly and fully-mean. Although it doesn't perhaps probe as deeply into either world as fans may like, it is still a fun, fast read that feels like a good snack between sequels.
  Also, fingers are lost.
  Southard's contribution follows, with "Style is Personal". This piece seems tailor-made for me, as it feels like it could slot into The Tick or my own Project Northwoods fairly easily. That being said, the story follows a villain at a flea market trying to haggle for an antique fan. When another supervillain shows up with the aim of disrupting the market, our protagonist struggles between trying to haggle without dying and intervening in rapidly escalating situation. A lot of humor is mined from the combination of the fantastic and banal, with the dry acceptance and embrace of the silliness of it all hitting all the right notes.
  Also, fingers are lost.
  Things take a slightly more serious turn with Gladstone's "Temporally Misplaced", which follows a young college student spending his summer working at a local bookstore. The owner is an older man who, it is implied, has seen some shit. The dramatic arc of the story begins when, after closing, the two have an heart-to-heart that reveals quite a bit more than expected. While this is quite a bit tonally different from the first two stories, I think it plays to the subtly creepy strengths of this narrative. To say more is to spoil something which is best experienced for oneself.
  Also, fingers are lost.*
  The collection is wrapped up with Pitts' "The Foot Bridge", which serves as kind of an interesting halfway point between the wacky hijinks of the first two authors and the darker tone of the third. At its heart, the story is about overcoming fear in the form of an adolescent bully. The thing that I really enjoyed about this contribution was that it was empathy that was the protagonist's core strength. The confrontation with the bully isn't spurred by a need to fight or defend himself, but to intercede on behalf of others. Even then, his role eschews violence, which places this particular slice of coming-of-age in a unique and heartwarming context. A reality bending cat (who I believe is from another Pitts series) happens to be involved, if you're into that. Also, fingers are lost.
  The entire work was a very good read, with all kinds of stops on the emotional highway, which is totally an expression and not something I just made up. I think in a year that has proven to be a bit of a downer, this was a much-needed injection of other (less horror-inducing) parts of the human experience.
  * Kinda.
< PREVIOUS ENTRY • NEXT ENTRY >
Advice • Fiction • Gaming • General Musings • Reviews