Review and Reflection
  Spoiler: I love this game. If you have a thing for old school takes on recently established genres, you should totally pick it up. Like, right now. What follows is just going to be a billion words (okay, like, 1,465 words) of praise. So if I haven't led you wrong in the past, avail yourself of this game immediately. If you're still here, by all means, continue.
  Not a Hero sounds like something you would get if Monty Python's Flying Circus had been around to parody the American and Hong Kong action movies of the 80's and 90's. At some point in the nearish future, humanity done screws itself. A giant anthropomorphic purple rabbit by the name of BunnyLord is tasked with saving the Earth from a most boring (or heinous, or average) apocalypse. He tried and failed multiple times, leaving him with just one option: destroy all crime in London and become mayor.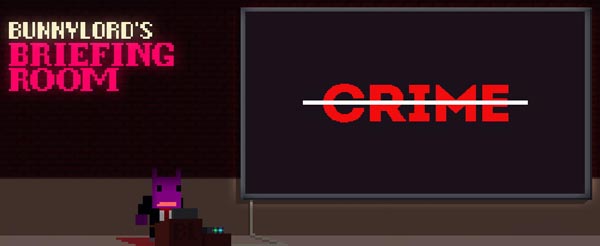 Well, I'm convinced.
  Well, there was a second option, but it involved just giving everyone zucchini. And BunnyLord does not truck with zucchini.
  To accomplish this crime-killing task, BunnyLord gets his best friend Steve (a man in a balaclava that looks like a beard with a gun that smells of glorious death) to start murdering criminals in the vicinity of their faces. Along the way, they are joined by a colorful assortment of contract killers.


Pictured: The Protagonists
Not Pictured: Heroes
Together, they will rid the city of three crime lords with a lot of violence.
  It's hard to strictly quantify just why Not a Hero is as great as it is.
  On a mechanical level, of course, everything functions appropriately. The buttons all work for shooting the bad people with guns, tripping the bad people to make them more vulnerable to your guns, and even some buttons that let you change where your guns are pointed. For variety, there are powerups that change what your guns do—they still shoot bullets, but sometimes the bullets are fire or tiny nuclear weapons. You also get grenades, Molotov cocktails, and various other explosion-makers.
  All of these things will be utilized throughout the game's 21 (and three secret) levels. All of the levels take place in one or several buildings presented in glorious 2.25D where you guide your hero not-a-hero around completing various objectives. Outside of permanently flipping other peoples' off-switches, you will be occasionally tasked to recover a precious (but more often than not, silly) item or destroy something BunnyLord finds distasteful/more useful blown up.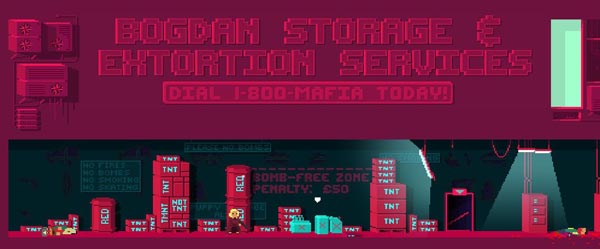 It was either this or go after the oily rag warehouse.
   The unique part of the experience is the cover system. Sliding, outside of just letting Sammy whoever you choose zoom about and trip up the bad folk, allows you to dart into cover. From here, enemies can't hit you unless you pop out or take a shot at them. They can punch you out of cover, but they run the risk of taking a critical hit if they get too close—it's a brilliant system, and it makes for some absolutely frenzied moments.
  When you're playing, the game just feels right on a very visceral level. When you're firing on all cylinders (usually after figuring out all the little details), you feel a complete rush being a badass that most triple-A games could never compete with. Having Clive dual-wield his pistols when surrounded or Mike turn into a knife tornado just hits all those lovely little pleasure centers in your brain.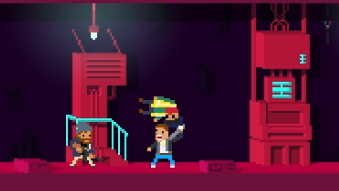 'Knife Tornado' sounds like a band Mike would be in.
Also, I like how the guy with the AK is just kind of "I'm gonna see where he's going with this."
  The relative simplicity of the game emphasizes the player's contribution to the events. The awesome things you do, like using a nuclear bullet to catapult you across the rooftops, are a result of you being awesome, as opposed to slogging through a firefight until you trigger a cutscene or hitting the appropriate buttons in a sequence to unleash a super move. The action is still choreographed, but it is the player makes it happen.
  This isn't to say that the game is easy, for it goes out of its way to make you earn it. On your way to becoming a hero of gun justice, you're likely to get perforated in ways that seem unfairly cheap. And, indeed, Not a Hero can be unnecessarily punishing or outright malicious. For instance, one level has a challenge of "Don't Get Punched", which in itself is not too bad. However, ¾ of the way through the level is a long staircase that exits a) off screen, and b) right in the path of a patrolling guard. If you happen to time it wrong, you're getting punched and there's no way to stop it.
  The latter stages can be especially galling for their introduction of a one-hit kill melee enemy coupled with longer stages and restarts that take you alllll the way back to the beginning. It's all doable, of course, but when you're running through the same difficult shootout for the fifth time only to be one-shotted unceremoniously, well, it can be a wee bit frustrating.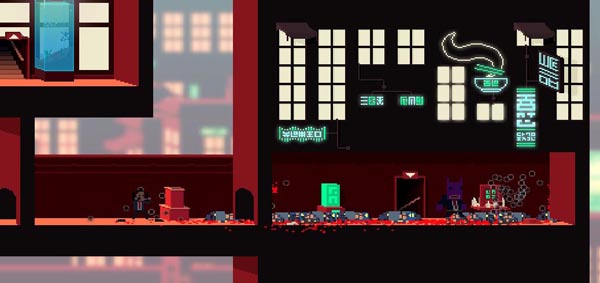 If only there was a way to vent said frustration!
  Beyond the actual bulk of the game, the music is reminiscent of classic NES-era sound with an amped up feel (I'm terrible at describing music; you should know that by now). It's an absolute joy to listen to, from the end-of-mission stingers to the credits. But the real star of the show has to be the voice talent. The nine player characters are taken from various parts of the UK, which means they all speak with distinct accents and stand out from all the others. Although they don't have much in the way of plot-critical dialogue, their asides, laughter, fourth-wall breaking, and incidental commentary make for an intensely fascinating and endearing gang of murderers.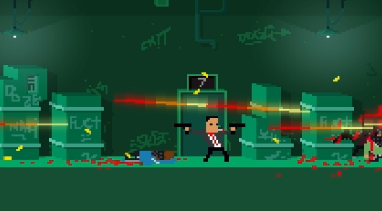 It's a shame about the chain-smoking, really.
  The voice acting for the various baddies is also good, if a little… how does the trailer put it? Xenophobic?

Oh, it's in there. Just buried under eight thousand pounds of mind-boggling.
  Outside of the actual gameplay, missions are given to you by BunnyLord himself, speaking to you in his adorable sing-song squeak. Many of the individual words in his text are randomized, so you will see a variety of adjectives and adverbs used in awkward but nevertheless amusing ways. A few of the randomized words are potentially riling, depending on your sensitivity to such things, but most are at the very least worth a chuckle.
  The larger point, however, is that the absurdist nature of BunnyLord and the entire premise is just such a delight to partake in. My earlier comparison to Monty Python's Flying Circus was not made idly: the disjointed logic and casual farcicality is uniquely British and infuses the experience. Whether he's telling you the heartbreaking (and, I'm assuming, fabricated) tale of a mob boss who rejected his attempts at friendship and cake or you're stealing a giant bee from a tower full of automatic pistol-wielding goons, it's hard not to recall the warm memories of Confuse-a-Cat, if through a cartoon-blood-soaked lens.

Shame on your parents for failing if you haven't been exposed to this.
  And through all of this, I think I discovered just why I adore Not a Hero. It's not just about the solid gameplay or the meticulously planned anarchy of the plot/dialogue. It's not that it's just so utterly unique in a sea of same-y shooters staring generic grunt-o-the-week. Oh, sure, it's all of those things, but I think the biggest facet of this gem is that it actually captured something that I haven't really felt in a long time.
  It brought me back to a time of borderline-nonsensical joy, the kind of wacky adventures a child may go on with their, say, magical giant rabbit friend. Sure, it's a violent free-for-all, but there's still a wild revelry to be had in all the chaos. It's simple, it's fun, and it rewards you the longer you play it. Not with bits and bobs and achievements, but with being able to play it better and pull off ever-more impressive stunts.


And milkshakes with BunnyLord.
  It's the only game recently that really made me want to be a part of its universe. Sure, it's an exceedingly brutal universe, but it's also one of anarchic charm and staggering displays of spectacle. It's a universe where a sad old man becomes Ronald Justice, "superhero", and knocks bad people into the sky with a hammer. And (from what I can tell) his closest companion in BunnyLord's Fun Club is an English-Vietnamese woman named Kimmy who watches him play video games in an absolutely adorable moment between serial killers.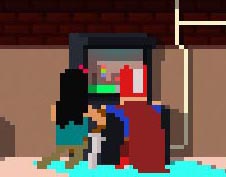 Well, I enjoy it anyway.

It made me want to participate, to create new worlds to explore and destroy with BunnyLord and his crew in a way that I did before I discovered I can't code or draw or do anything but write.
  So… yeah. If anyone needs me, I'll be playing Not a Hero.
  Or making more shirts.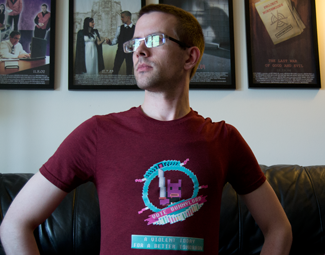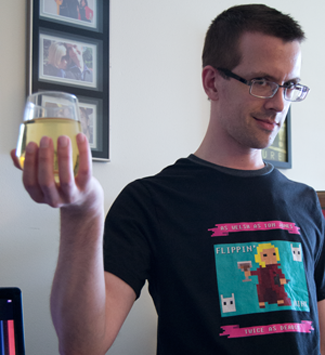 I don't drink. What the hell am I going to do with that wine?
I haven't decided yet.
UPDATE, 5/26/2015: The people over at Roll7 are fantastic and super awesome. Their Lord of Pixels, Jake Hollands, pixelated me thanks to my enthusiasm-powered shirts.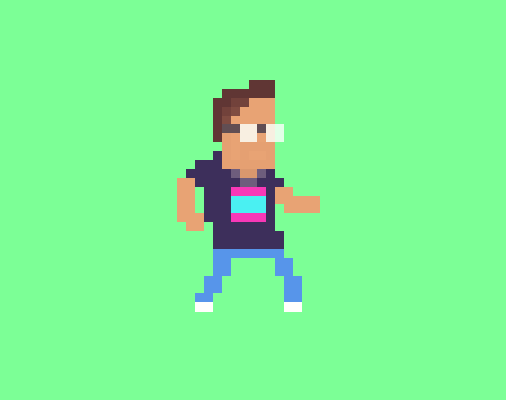 Behold my magnificence! BEHOLD IT!
So, yeah... if anyone needs me, I'll be squealing with joy.
< PREVIOUS ENTRY • NEXT ENTRY >
Advice • Fiction • Gaming • General Musings • Reviews