Welcome back to the action, Traipsers! When we last left Harry, he had collected the last magical knickknack that he apparently needed to… uh… do something. Said item was also in a room that, through the power of bullshit/ghosts, projected a past meeting of the game's villains for our wandering writer to see. They spent most of their time discussing how totally cool it's gonna be when they torture the shit out of Alessa for nefarious reasons. And then they laughed and laughed for, like, ever. It really happened that way. Trust me.
  Anyway, the Disc of Ouroboros in hand, we venture into the final "real" room of the game, which is just across the hall from Alessa's dirty hospital room.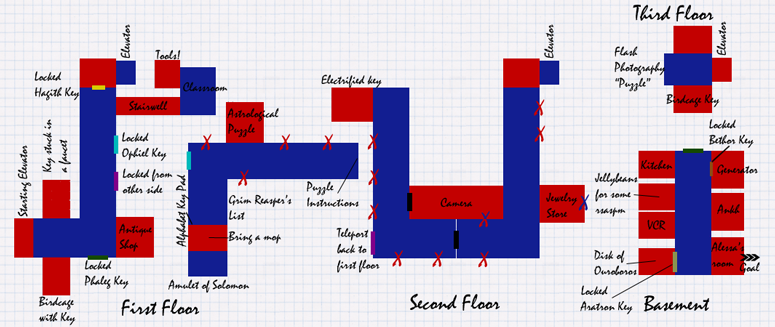 For Reference
This room is actually accessible immediately when you enter the Phaleg hallway, although realistically you probably won't bother exploring it once you find the key to the generator room and embark on collecting the Aratron key from its electric prison. Well, "realistically" here means "play like me", because you might be some weirdo who doesn't want to knock out padding-related sidequests the moment you get them.
  Anyway, the final room is easily the best designed and most unique room in all of Nowhere, possible even the entire game. While I liked the bus just outside of Midwich for its overall spookiness and visual storytelling…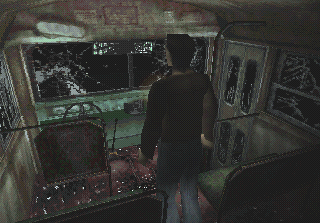 Sure, it's good, but we can totally still use blood to write spooooky messages on the windows.
… this room easily trumps it for its contribution to the narrative.
  And it's probably this contribution that ends up determining why we, as players, spent way too long over analyzing the game's details. But whatever.
  Behold, the last room of the game—Alessa's Room.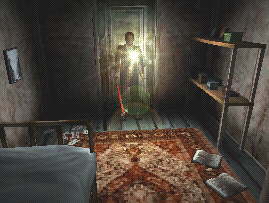 OH GOD THE HORR--oh, wait. It's just a kid's place. Huh.
There is a notepad in here that calls this place Child's Room, but we know who that child is, so why not call a spade a spade?
  So, there are a couple of things we can actually examine around the room, but all we really get is Harry's deadpan explanation which ultimately doesn't do a whole lot in the way of being remotely useful. One of Alessa's… um… school uniforms, I guess, is hanging on the wall, from which Harry somehow magically divines Alessa's age. For he is Harry Mason, master of esoteric and useless information, and he can know someone's age just by looking at their clothes.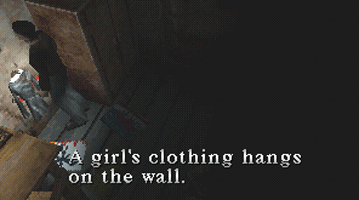 Harry: Secret Tailor
  Examining the cabinet opposite the hanging school uniform nets this little piece of inner monologue:

Harry's just pissed that there isn't a single book he's written on the shelf. Why Alessa would have the owner's manual for a food processor is best explained by the squirrel living in Harry's head.
This is a reference to the fairytale lizard boss monster that we subdued in Midwich thanks to the mysterious and ancient art of waiting for it to open its mouth before splattering its brains all over the floor. At least, this would be the case if Harry mentioned that one of Alessa's fairytale books was the same one he stumbled across in Midwich. Instead, all we really know for sure is that Harry read that book growing up.
  Oh… I guess it can kind of imply that she read The Wizard of Oz, hence the doofy themed keys all the way back at the beginning of the game. Then there's the colored plate puzzle in Alchemilla, which incorporated characters from Alice's Adventures in Wonderland. Of course, we don't fucking know that because THE GAME DOESN'T TELL US. So, unsurprisingly, a throwaway line is leaned on to cover for so much lazy writing that, like an overstressed table leg, it just kind of snaps it in two.
  So… that was pertinent, I guess.
  I think the thing I find the most annoying about this is that it's such a half-assed rationale for, like, two moments in the game. Instead of infusing the entire game with, say, references to all kinds of topsy-turvy, dual-world pieces of literature, instead we rely on two fucking instances. And outside of the two-reality plot lines, what the fuck do they have to do with Silent Hill? Actually, one major thing—their protagonists are all young ladies. Unlike Alice and Dorothy, though, Silent Hill's narrative mistakenly follows Harry instead of the ACTUAL FUCKING MAIN CHARACTER.
  God damn it.
  Back toward the entrance… exit? There are two doors leading out of this place. So… erm… back toward where we entered, there are playing cards scattered all over the floor.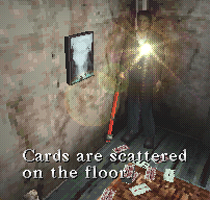 It turns out it was all a metaphor for 52 card pickup.
I don't know why they felt it was appropriate to code a line of description into the game that tells us that there were playing cards on the floor, but there they are! I suppose they fit into the Midwich puzzle with the door that needed a "Picture Card" or whatever. You remember the one, right?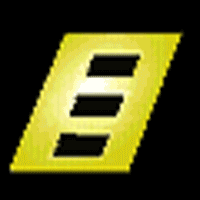 Oh, right. That one. Super memorable.
Unless, of course, the cards are actually another reference to Alice and her Wonderland adventures and I missed the intention there. It would actually be a bit more direct, which is more than just a throwaway "oh, this bookshelf totally has some fantasy bullshit on it" line. But I don't know, because the game doesn't tell us.
  So… um… yeah.
  This… is really stupid, y'all. Instead of playing cards, why not Tarot cards from the major arcana? I think that's mainstream enough to be recognizable. You wouldn't have needed a card with the picture of a key, either. They have a card in the deck called "The Hanged Man". You could have made other doors in the school locked with similar cards. Jesus, how is this hard?
  Even if you wanted to go with traditional playing cards, you know how you build the door? Make the corpses look like a playing card's portrayal of a king. That is to say, two torsos joined at the gut. Bam. "Scary" visual, keeps the theme you want. You don't have to have a special "Picture Card". You just have Harry pick up a King of Hearts of whatever.
  And don't anyone whine about how he'd have no reason to—this is a guy who picked up a random pink rubber ball without provocation. He will take whatever the fuck I want him to when I want him to. We also just spent the entire run of Nowhere picking up random magical thingamabobs without any context as to why they would be important. The point is that we've done weirder for less.
  So that ends the kind of superfluous crap in here. Let's get into the good stuff. First and foremost, anyone remember the dopiest bossfight in the game?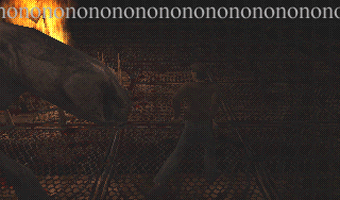 The one where you can run endlessly in circles, forever chased by stubby the lizard?
No, not that one.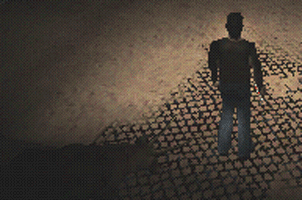 This embarrassment?
Warmer, but not quite there.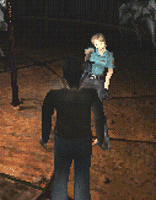 That time our cop friend tried to murder us?
I said dopiest, not gimmickiest. And how did you overshoot the target that badly?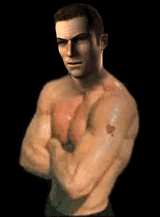 The man of our dreams?
…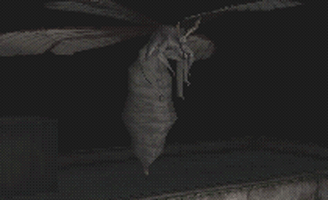 Tch. Fine.
Right! The moth! Well, it turns out that there is a reason why there was a giant moth sicced on us. And that reason is the fact that Alessa was quite the amateur lepidopterist.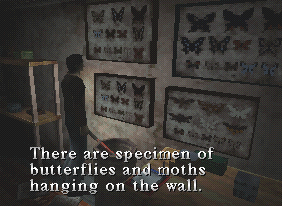 Well, it's kind of a gross hobby, but at least it's not dog teeth.
Sure, the moth was probably the least terrifying enemy in the game, but there was some fairly sound rationale as to why it was there. I still hate the fucking thing for the fact that it wasn't scary, it roared, it somehow snuck up on Harry despite sounding like a fluttering jet engine filled with tapioca, and beating it took less strategy than getting drunk and talking yourself into masturbation.
  Next up are the children's drawings scattered about oh-so-ominously on the floor.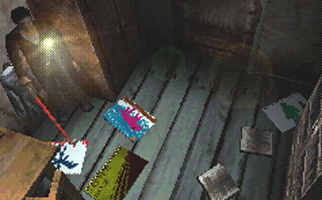 You know Harry is judging the shit out of those drawings.
To the left, we appear to have some kind of winged monster thing. Why, we happened to fight winged monster things! Of course, it could also be a winged humanoid, and it does indeed look like it has arms as well as wings. In that case, it looks like your standard winged-devil-type deal. I really do wish there was a better angle to get of this particular drawing, but we make do with what we have, right?
  In the center is a pink dog. Hey, you know what else is pink and runs around on four legs? The freshly skinned poodles of the town! How… unpleasant!
  And then we have the final drawing, which is the green Bigfoot or whatever in the corner of the room. I'm pretty sure this here is our overly generic lizard monster of the sewers. Either that, or Alessa is just fucking terrible at drawing. I mean, better than I was growing up (or now, to be honest), but still.
  And last up, we have this in-no-way-creepy mound of faceless stuffed horrors.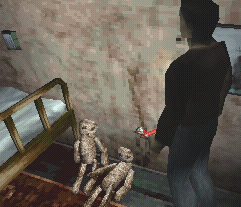 Oh, yeah, I can really use those nightmares. Thanks, game.
Okay, "mound" is not the right word. But look at the creepy bastards—those are clearly the prototype demon kids. Hell, if we want to push it even further, why not make them related to the sexually aggressive molemen Harry eradicated from the sewers as well? They're both stumpy, relatively featureless horrors—one just has extra knives on its fist and a ruddy paint job.
  Also, Jesus Christ, Dahlia, you can afford several big fancy cases for Alessa to capture and preserve all those moths, but all she gets to play with and be a child with are a deck of cards and two horrible potato-sack children? I'm starting to think this "Sacrifice my child to eldritch horrors from beyond the veil," may be just one more thing in a long line of bad parenting!
  Anyway, I really like this room because it gives a little context for the monsters we've come across in our journey through the world's crummiest vacation hot spot. There are two "unfortunatelies" regarding all this fun material, unfortunately enough. The first is that this is probably where players (myself included) first went off the deep end and started ascribing undeserved and overblown significance to everything.
  But the second is that it takes the game's already flimsy, slapdash plot and breaks it irrevocably over its knee.
  It starts with a simple question: who is in charge of Silent Hill?
  And, no, you don't get to say "Silent Hill is its own thing!" as of yet. Both Origins and Silent Hill both rely on people running through Alessa's nightmare. Origins doesn't quite rely on the town "calling" Travis quite overtly, and instead makes it more about being at the wrong place at the wrong time. Even if it did "call" someone, it's still a pertinent question to ask—Who?
  Your initial response may be Alessa, and you'd be right… to a point. See, the world that we've been wandering about in is clearly of Alessa's creation. This room supports that by suggesting her memories are creating at least some of the monsters—the dogs, lizards, flappity birds o' doom, moths, etc. Most of the animalistic monsters are either derived from elements of the room or can reasonably be extrapolated from descriptions of items we can't see. The only ones that aren't are the apes and the cockroaches. I'll give a pass to the apes, but it's not too much to suggest that the cockroaches called this shithole house home.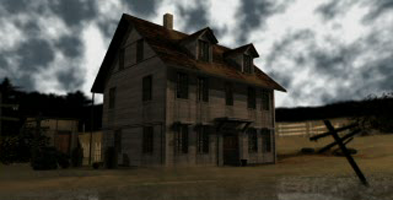 Hey, wait a minute... where's the road that Travis approached the house from? Where was that river the entire time? PLOT HOLE.
  Here's where it starts to break down. A lot of people use the "nightmarish delusions" line from the boathouse…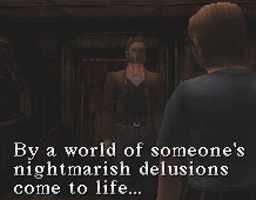 Oh, good. We're back to this.
… to jump to the conclusion that Alessa is afraid of birds, dogs, gorillas, children… everything, really. I mean, if we were to take the wiki at its word, the only thing that Alessa isn't scared of is the sun, and I wouldn't put it past someone to suggest otherwise. And really, this isn't the worst assumption to make. She's growing up in an abusive household, her school life isn't the best, and her mother tried to burn her alive. I think that would justify a healthy fear of anything and everything.
  The problem I have with the "Alessa is scared of everything" theory, though, is that the game never tells us this. Not once. You can have nightmares about things that don't typically scare you. And keep in mind that it's Harry aptly describing it as nightmarish, not Alessa. His perception of these monsters is that they're nightmarish—perhaps they're nightmarish to Harry because that's what Alessa needs them to be to drive Harry off. Makes sense, no?
  Further, I don't buy that Alessa would spend time drawing things that terrified her. I mean, I was a kid who drew monsters and shit like that, but not because I was scared by them. I thought they were cool. I was fascinated by the way other artists depicted them (particularly those of the Dungeons & Dragons Monster Manual).
  But this is admittedly a weak argument, because we don't know for sure. We're never told. But there is a hard-hitting piece of evidence right on the wall of Alessa's room.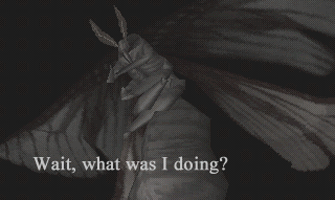 Leave it to the moth to ruin everything for everyone. Imagine being on cleanup duty for that.
The fact that she collected moth and butterfly specimens suggests that she wasn't terrified of the little fuckers in the least. This, coupled with the fact that Harry fights a huge one outside the hospital, doesn't exactly suggest that this is something that made Alessa squeamish, let alone something that would send her into a catatonic state.
  And speaking of the hospital, you know what monsters don't fucking fit in at all with the others?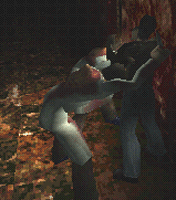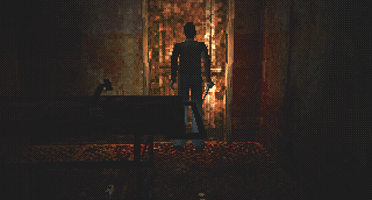 The practitioners and, by extension, Cybil are clearly very different. We don't encounter a single other human-ish enemy except those under the control of the random catfish parasite. Since these baddies are in an obviously cult-controlled part of Silent Hill, the symbolism is obvious—the parasites are pupeteering their hosts, just as the doctors and nurses were manipulated to do Dr. Skeeves and Dahlia's bidding.
  See, Alchemilla is the first level where the monsters actually seem to be something that Alessa could and would be realistically afraid of—the nurses and doctors who kept her prisoner in her charred body. It would make sense that these former-humans were creations of Skeeves or Dahlia—specifically to stop Alessa from doing whatever it is she's doing in the hospital. But since Harry is also in the hospital, we can narrow down the list of suspects to just Dr. K. Why? Because Dahlia gains nothing if Harry dies, but Kaufmann prevents Dahlia from stopping Alessa. Because, let's face it, Kaufmann has totally been left for dead by Dahlia at this point. He is the only one, apart from Harry, who is ever seen fighting monsters. Specifically, Alessa's monsters.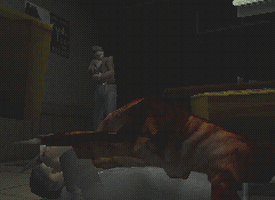 Or... um... whatever the hell this is.
Sure, there's Cybil and all, but she was struck from behind by a mysterious assailant, only to be presented to Harry as infected by a parasite. She's never attacked by a monster on-camera. Like, ever.

  This suggests that there are, at the very least, three separate entities "controlling" the forces of Silent Hill: Alessa is lord and master over the animal-ish things, Dr. Skeeves is in charge of the hospital, and Dahlia is president of the Nowhere society. Even if we look at Nowhere's monsters, they are primary controlled members of the cult/manipulated nurses, but also shadowy demon children derived from Alessa's own army. They are diminuitive shadows of monsters past—nothing that Harry can't handle at this point, but still minor obstacles that must be overcome.
  If we look at it that way, Harry is constantly in the position to be killed by the various forces of darkness. It would also explain why we never actually encounter Alessa or the seal of Samael/Flauros in the hospital—perhaps Dahlia had intended Harry to kill Dr. K. Or perhaps Alessa's body was a necessary component in Alessa/Cheryl's plan and it needed to be retrieved (hence Harry's initial comment in the basement room along the lines that "Someone has been here").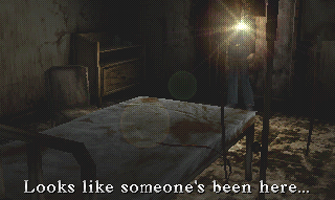 Gadzooks! A clue! Maybe?
Either scenario would explain why the seals only became an issue after Harry's booted out of the nightmare and back into the "real" world—there was no seal to stop in the hospital, just Alessa or Dr. Skeeves.
  But it's not like we're ever told anything like that. No, it would ruin the supposed "mystery" of this highly intellectual plot that doesn't need to do anything other than throw weird, random shit at us.
  Before we go off on this tangent too much, we have to return to that question—Who is in charge of Silent Hill? Let's assume that it is Alessa/Cheryl based on the majority of monsters trying to redecorate the sidewalk with Harry's innards. This also makes complete sense—between saving the world from a horrible devil nesting in your uterus or your dad, who do you think loses that particular coin toss?
  What I'm saying here is that Harry spends almost the entire game as the bad guy, fighting through the real hero's desperate attempts to keep him at bay as she gets closer and closer to saving the world. I mean, we know that Harry's the villain, right?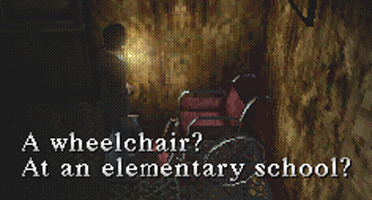 I hope this is obvious by now.
There's literally no other way to view Harry's journey as other than him trying to foil Alessa's plan. Alessa's plan is to stop the birth of a reality destroying god that threatens reality itself. He is in no way a good guy and is actively a threat to Alessa. I mean, he unquestioningly follows Dahlia's orders even though she's clearly not all there. At the absolute best, he's Gilligan—a well-meaning but horrible dipshit that manages to ruin everything through his endless bumbling. At worst, he's so dense as to be an active and willing henchman for the baddies. Either way, just like Gilligan, my suggested course of action would be to kill him and eat him.
  You… probably wouldn't want to plan any vacations that run any risk of being stranded with me. Just a… uh… friendly warning.
  Back on topic: so if Alessa's in charge, why the fuck does she leave him clues to find her and stop her? It doesn't make a lick of sense! The puzzles she leaves behind and the notes she leaves for Harry give him a chance to find her.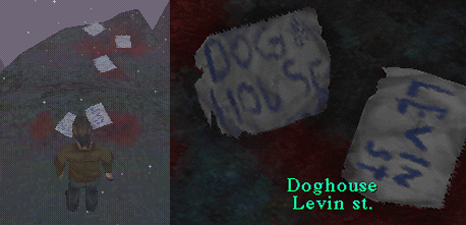 See, no one in their right mind would do this. Alessa's not committing a crime--she's SAVING THE FUCKING WORLD.
From what we know of her, Alessa is not stupid, nor is she crazy. But you can't have a situation where she sics mutant dogs and other assorted monsters on her dad all while telling him to come find her. It doesn't work that way. I mean, she threw a fucking moth at the guy to get him to fuck off.
  A. BIG. ASS. MOTHER. FUCKING. MOTH.
  You don't do that unless you are absolutely desperate to get someone away from you.
  Now, people will try to defend this by saying that the clues that are left behind are all the vestiges of Cheryl's personality trying to get Harry to rescue her. But why? Nothing says Cheryl/Alessa will die once they cosmically abort the evil fetus or whatever. In fact, she should know Alessa's plan is for their best interest BECAUSE THEY ARE LITERALLY THE SAME FUCKING PERSON. If she truly cared, she would have kept Harry in the real world with a note pinned to his shirt that said "Be back in a couple of days." Sure, he would have rightly freaked out, but when his daughter showed up looking a decade older but otherwise safe, I think he would have been alright.
  And even if Alessa/Cheryl had to die, that would be a part of their endgame the entire time. How is this even a problem? This is a heroic sacrifice that Alessa had seven years in a psychic torture coma to come to grips with. She can be scared, but when the other option is "Annihilate World in Hellfire", it's really hard not to start going all "Needs of the many" on people.
  But let's say that Dahlia's the one who pulled Harry into Alessa's Silent Hill so she could use him as a very stupid Alessa-seeking missile. Then what's stopping Alessa from just trapping Harry in the starting area? Send the doghouse to the moon? Destroy the keys to the eclipse? Have him endlessly run down the same, monster-vacant street until she did what needed to be done? Or otherwise just destroy every single clue that Dahlia left behind?
  Even then, though, it couldn't have been Dahlia, because Harry was the only one who could get close enough to Alessa. She would have murdered Dr. K or Dahlia in a heartbeat. Harry was dumb enough to be able to get close. So why would Dahlia put him in town and then immediately set all of Alessa's nightmares on him? How could she? They aren't hers, now are they? Otherwise, what's stopping her from marching on up to Alessa in the first place when she has an army of horrors?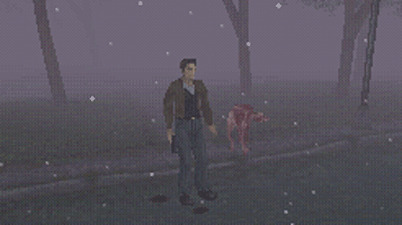 Not necessarily an effective army of horrors, but an army of horrors nonetheless.
  See, this ends up in a situation where Alessa controls the nightmare until she doesn't, then Dahlia controls it until she doesn't, and Skeeves controls it until he doesn't. It's such a noncommittal mess because it seems like no one on the development team knew what story they were telling until the last minute. Everything then had to be justified ex post facto, and rather than throw out all the stuff that didn't make sense with the story, everything was kept because it was easier than making new content or adjusting the old stuff.
  Ultimately, the answer to this question is literally just throwing your hands in the air and saying it doesn't matter because "There wouldn't be a game" if a single decision was actually made on the subject. And that is such a weak, bullshit answer. If you ever use the phrase "Because then there wouldn't be a _____" to defend something any more complex than a board game, be aware that the thing you are defending is indefensible.
  The solution to this, then, would have been to actually make a game centered around the real hero of the story—Alessa. I know that this is the second game in a row where I've been insisting that this is the solution, but it should be obvious by now that Silent Hill: Origins and Silent Hill: The First One missed golden opportunities to explore actually engaging stories with an actually interesting, dynamic character in favor of boring brunet male protagonists, stock models #174-A and #278-Faulkner. And because the very first game in the series made such a critical misstep as to, you know, not have a coherent plot or editor or anything, the rest of the series ends up saddled with a bloated mass of bullshit it needs to carry around for the sake of "continuity"—a continuity that the game itself clearly has nothing but contempt for.
  But whatever. There's no fucking clear answer one way or the other that the game gives us, so instead of coming to a satisfying conclusion on this clusterfuck of a plot, get some rest in preparation for plugging things into other things in our next episode, So Much Talking About Things We Know Nothing About.
BONUS:
So, when I uploaded today's update, I had forgotten to adjust the frame settings on Harry's examination of Alessa's school uniform. As such, it made it both unreadable and... well, as one person put it, Harry's stuttering animation made it look "like he's trying to screw her dress". It has since been fixed, but I couldn't let a perfectly good example of Harry being a creepy asshole go to waste.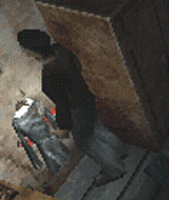 YOU DON'T UNDERSTAND OUR LOVE
< PREVIOUS ENTRY • NEXT ENTRY >
Advice • Fiction • Gaming • General Musings • Reviews