Welcome back Traipsers! Previously, Harry was unable to stop Alessa from doing whatever it is she was doing to the lighthouse. Cybil hadn't somehow managed to sprint all the way to the amusement park and back, which prompted our protagonist to call her a creep for some reason…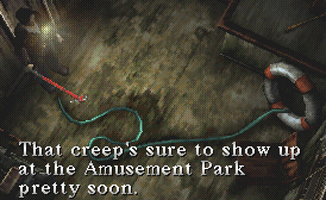 Or maybe he was talking about Alessa. It's unclear.
… and decide that he needed to head to the amusement park to… erm… say it to her face or whatever. When we reached the sewer entrance, we were greeted with an FMV of Cybil peering around a surprisingly non-nightmarish sewer corner only to be jumped from behind. The only character to have an operating IQ above a single digit taken out of the plot, we're left to face a very grim future indeed.
  But all was not lost, as Harry successfully took the gold in Silent Hill's proud traditional sport: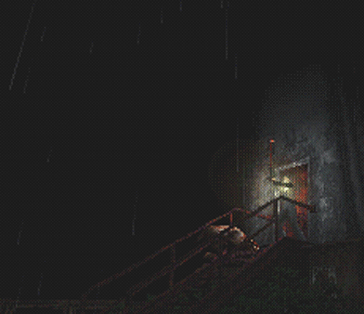 And, lo, Harry did win a stuffed rabbit and twenty extra tickets.
Recognize the talent, everyone.
  Also, in the interest of full disclosure, Harry says this when you examine the freshly opened entrance to the new sewer level: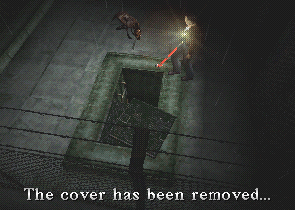 "Or maybe that kindly demon dog pulled it up somehow!"
Apparently, Harry isn't clear on the fact that that would be the only possible way to go, considering all other avenues of approach have been destroyed. But I would like to point out how quickly characters assume that the sewer will lead them to where they want to go. First, Cybil with the waterworks, this… why wouldn't the more natural response be to break into a building and see if the basement or other side opens up to form a path? Or perhaps chuck yourself off the chainlink ground and catch onto one of the trees that have to be anchored in something.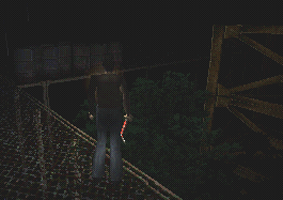 Wait a minute! That means there's ground! Have we been walking on streets supported by stilts?
Or even the lake front! The fact that we see water lapping against the docks proves that it's hemmed in by something. What the fuck? I'm serious, this is bothering me now. No one in their right mind thinks "sewer" when presented with options, especially when the roads are torn up. You know, roads? The things that are traditionally above sewers? Are videogame characters that desperate for pink eye that they're drawn to bacteria-filled water? This is weirding me out, and I can't stop thinking about it.
  Anyway, the second and final sewer level of the game begins like the last one—with a shot of Harry clambering down the rungs of a ladder.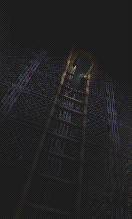 WE GIVE YOU ALL THE LADDER ACTION YOU CAN TAKE
I… I have no idea why they decided to do this with ladders in this game. It's not a loading screen thing, because there is almost always a black-load screen after this animation plays out. Maybe they thought it would build tension? I don't know. All I know is someone spent time animating every ladder climbing sequence (and the reverse, if necessary), every single instance contributed to their resume, and yet I doubt they have any more of a clue as to why they're there than I do.
  Also like last time, this is a point of no return—not that it matters, because the only place you can return to sucks.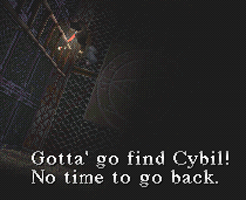 Remember, everyone, Harry's a "writer".
But at least there's a random apostrophe to keep us company in the horrible… wait a minute, is that a Flauros mark on the floor?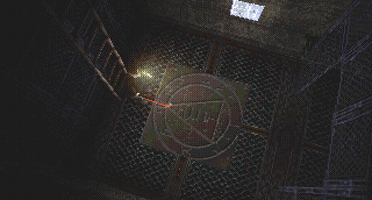 Yup.
That seems to be the case. Is this an official mark? Like the one on the lighthouse? Or is this merely decorative? What about the massive iron ones decorating the walls just down the way from the entrance?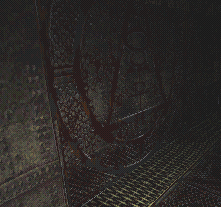 Maybe she's just covering her bases?
Were these in any way pivotal to Alessa's plan? Or at they just set decoration? Should you have perhaps come up with a second symbol to paint all over town?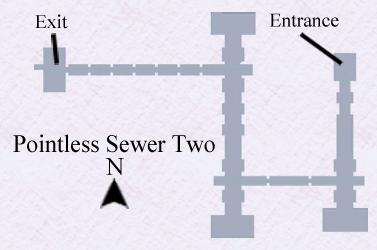 For reference.
  That big white blob in the opening chamber is this sewer's map, which is a little silly considering there's literally only one path to the exit. They don't even have any twists and turns to throw at you. There are no doors between you and the exit. You just take a right, then a right, then a left. Just like before, your radio doesn't work, so enemies are more likely to get the drop on you.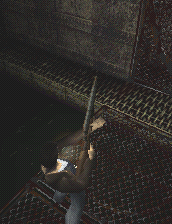 Ha. Drop. Get it?
  The less-crappy-but-still-a-sewer-level sewers have a fairly healthy population of the lizard monster-things from the previous dalliance into fetid water tunnels. In fact, a trio of them lies in wait for Harry just beyond the entrance. Two are hanging out on the ceiling, but if you run by, they'll whiff when they try to hit you. The big problem is the third one, who will move to intercept you on a narrow walk way. The trick is to either lure it to you before running by, or take it out with an emergency hammer blow or whatever fire arm is your favorite.
  The big, and really neat thing, about this is that once you cross that hole in the floor, you'll hear a splash behind you.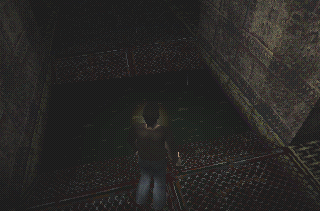 We said 'point of no return', and we mean it.
Yup, for once, an ominous sound had something to do with something in game. It's actually pretty cool—I wish they did more environmental responses to Harry's movement throughout the game to give the world a more "living entity" vibe, but whatever. It happens here and I like it.
  Outside of that, though, there is a new enemy introduced in the first connecting tunnel. Well, kind of new, anyway. You see, it's these sewers that the identical siblings of the thing that was trying to kill Dr. Skeeves call home.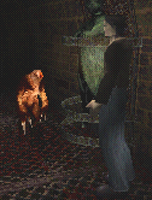 You will learn to fear Hans Molemaaaaaaaan.
The mole… monster… things are actually the single biggest enemy threat in the game, despite just being reskinned demon children. This means that they have a grapple attack, but unlike the demon tykes's minimal damage dealing with this attack, the abo-mole-nations happily chew away at Harry's groinal region. If Harry is brought to a quick and presumably painful completion, he dies. Think I'm joking? Oh, sweet Traipser, when will you ever learn I do not joke about the more absurd elements of the game?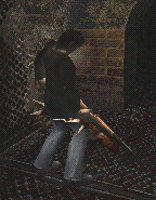 This... is uncomfortable.
This attack further implies to me that the mole-man-thing was trying to fuck Dr. Skeeves to death in Annie's Bar.
  Similarly to the demon students, these things have a standard swipe that is tremendously damaging. If you happen to be pinned in place while another one gets into range, you can pretty much guarantee that Harry isn't going to be walking away from the fight.
  So, what are your options? Well, despite it being more intimidating damage-wise than anything else in the game up to this point, three bullets will floor them with a follow up boot to end their stupid faces. Or, if you're interested in bring about the big guns, a single emergency hammer whack/rifle round will straight up kill it, sending it to the big mole colony in the sky.
  … Moles have colonies, right?
  Now, the molemen are actually only in this area of the game—outside of Dr. K getting accosted in Annie's Bar, they are never seen before this moment, and they will never be seen again. I have no fucking clue why they did this. I'm guessing that, at some point in the development process, they decided that having demon kids in a sewer would be weird or something and just reskinned them and gave them a massive power boost for this one section. I mean, they even walk the same way, arms flopping back and forth like the goofiest fucking strut you've ever seen. And some of you may be thinking that maybe this is the nightmare world's version of the kids—after all, demon dogs and birds got an upgrade—but that theory is dashed once we reach the amusement park.
  Or, you know… paid attention to the nightmare that began the game or the Midwich nightmare reality.
  Now, these beasts do actually replace all the demon kids in the PAL version of the game (that would be for the European release, for those unfamiliar with PAL/NTSC encoding), I guess for reasons regarding violence against faceless monstrosities with the same height as children. Or something. I could find out, but 1) eh, and 2) why are there fucking molemen in the first place?
  Anyway, for everything that the last section did wrong with the docks, this section at least tries to address. I know, I was surprised, too. Now, the most pertinent detriment is that it is a sewer level, so the design and aesthetic is as boring to look at as it is to run through.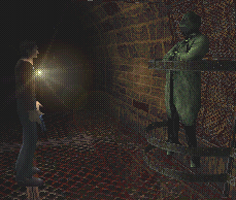 B... but... corpses!
Even the few moments that the game tries to be creative with the environment just ends up retreading things we've seen before, which is a shame (oooooo, maybe the next corpse will be badly burned and swaddled in cloth!). But outside of that, the straight-ish path coupled with low-but-manageable maneuverability and hard-hitting monsters that are new enough to be unsettling leads to a very tense situation where the best option is to just blaze a path through and never look back.
  And here's where things get rough.
  You see, if you pause for even a second once you reach that long middle area, the game actually does generate more monsters just to fuck with you. While exploring through my screenshot run, I was blindsided numerous times by gangs of molemen and lizard monsters that seemed to have been dropped in for no other reason than to keep moving me toward my destination. And since the radio was silent, the only thing I had to go one was the click of the lizard monsters' talons. It was actually legitimately effective at creating tension—tension in, what I should remind you, was the easy-mode, murder everything run.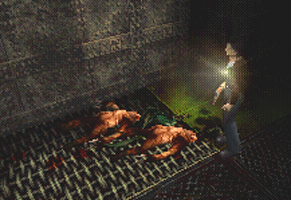 Everything still died, though. I still have a bajillion bullets, remember?
  Basically, if you run straight on through, there's nothing particularly dangerous about this area. If you stop to fight, you're probably going to regret it. Basically, if they had applied this concept that is executed reasonably well here, made it a bit longer (if you run straight through, you can get through in, no kidding, less than a minute), set it on the docks with wider rooms to maneuver, made the molepeople slightly more durable and reduced the overall amount of ammo/health supplies throughout the game, it would have made for an effectively tense segment.
  Like instead of the sewer, why not a river walk? Have Harry try to cross the street only to be knocked into the abyss by one of the birds, and he comes to along a hiking path. Incorporate light maze-like elements and the other things to keep the player on the move. It's not too hard to come up with something other than "another sewer". Oh, wait, it's another sewer with corpses in it instead of the implication of corpses.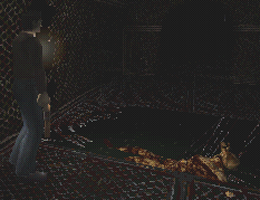 Oh, yeah. The other several hundred corpses didn't phase me, but this one is completely fucking my mental shit up.
Silly me. That's totally different.
  Anyway, whether you run and gun or just plain run, you'll eventually wind up at an area with a bunch of carousel horses floating in the cesspool…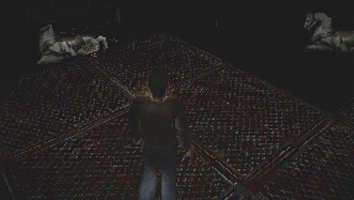 ... how, exactly, did this happen?
… which… I guess means that we're by the amusement park or whatever. How convenient that this sewer connected to the one place we needed to go. On the upside, this does signify that we are at the end of the last sewer level for this game. On the downside, we naturally get one more shot of Harry climbing a goddamn motherfucking ladder.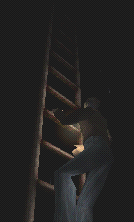 YOUR MIND CANNOT COMPREHEND SEXUAL LADDER AWESOMENESS
Because, at this point, why the hell not?
  That's all for today, Traipsers! Join me next time for Catastrophically Dropping the Town's Average IQ.
BONUS: I swear it's not the same sewer that Cybil was in a moment ago. I swear it!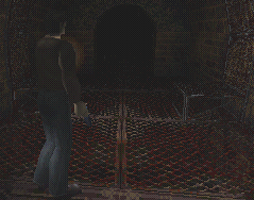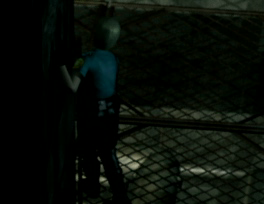 I mean come on, they aren't even the same color/rust level.
< PREVIOUS ENTRY • NEXT ENTRY >
Advice • Fiction • Gaming • General Musings • Reviews