Welcome back, Traipsers! When last we left Harry, he had triggered the nightmare world's resurgence and bumbled his way onto a houseboat. He encountered some cool dudes just hanging around…

... do you need a hug?
… and that's where we left off. On the other end of the hallway is a mysterious door leading to the cabin, which naturally means that Harry's going to hotwire the boat and make his way across the lake and…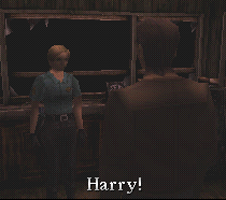 What's up, motherfuckers?
  Oh, hey, it's Cybil.
  Wait, what? H… how?
  Before you think about questioning it, we are thrown into an oh-so-groovy name shouting to get the cutscene gears all lubed up and ready to roll. Harry asks how she got there and she responds that she followed the sewer—specifically the one we took, because she counter-queries about whether or not he was the one who "cut the fence", even though we broke a crummy padlock. Slightly different, Cybil, me old chum.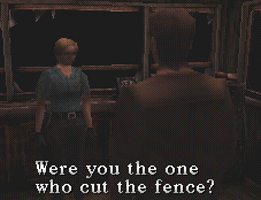 Um... why are we talking in front of broken windows when horrors stalk the night?
  Ignoring the massive convenience of this sequence of events (how do these two keep running into each other in an entire town devoid of people, yet full of monsters?), how the bloody hell could Cybil have gotten here first?
  That may need some explanation. You see, putting Cybil in the sewers after Harry means that in this particular instance (that is to say, the particular version of events that we are now playing through), she could reasonably have been about five minutes behind Harry. How she managed to not bump into him or Dr. Skeeves or hear the sounds of gunshots/scuffles on the resort side of town before Ragnarok came back with a vengeance is anyone's guess, but it's not too bad.
  Where it becomes really stupid is if you happen to skip the sidequest and head straight-ish here. There's no conceivable way she could have wound up in front of Harry. Harry had to unlock doors in the sewers—he, quite literally, had to go first. Unless, somehow, Cybil dove into the sewer water and swam under some of the fences while Harry was looking for keys. Which… is really gross, y'all.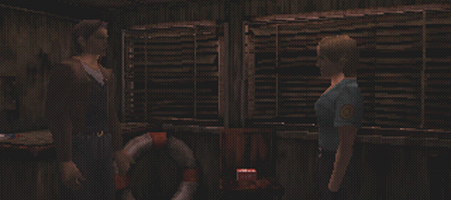 Let's just stare at each other until this is over.
  See, this is where my original option of introducing the waterworks level by having the door already open would have been the smarter option. It's perfectly reasonable to assume that Cybil, concerned over Harry vanishing, would have spent time looking for a way to the resort area in an effort to hook up with him there and stumbled across the sewer entrance. Assumingly, she hasn't been dealing with the monsters, so she'd be more likely to make it with a minimum of problems.
  Further, Kaufmann needed to get to this side of town, too. How is this not a question that Harry asks? If you wanted to go all "there's different Silent Hills for different people", the doctor can be all cagey about it when Harry asks about the sewers. Or he could have been the one to have opened up the sewers. Or it could have been Cybil. If our protagonist had come there and the door was open, it doesn't matter who was there and when! Dr. K could have done it while we were muckin' about the hospital or Cybil could have done it after we disappeared from the other church.
  Ugggggh.
  After this, Harry says the now-customary, "I was worried about you!" Cybil responds with the equivalent of "Really, dickcheese? You were worried about me, when you're the one who fucking vanished from reality?" But then she's all "Never mind! What's going on with this town?" and the subject will never be broached again.
  Silent Hill!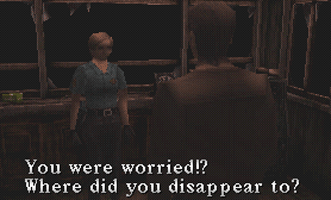 You were worried? I saw birds! Can I get a puppy? Where did you disappear to? Rhythm is EVERYWHERE!
  I guess her initial panic suggests that she finally sees the nightmare… or not—it's kind of hard to tell because, unlike Kaufmann or Lisa, she doesn't seem to directly react to the events or things around her, so it's really just implication. Anyway, she may or may not see the nightmare, so I guess that may or may not mean Harry is losing his mind. It's… a little murky.
  If nothing else, you could make the argument that Cybil does not actually see what Harry's seeing. She's not saying "What's the deal with this lumpy faced monsters?" or "How do I process all these goddamn corpses pinned to the wall?" it's "What is with this town?" So, once again, we don't know. She could honestly just be fed up with running around a ghost town, led on by ghost children, dipshit writers, bad landscaping, and nonsensical plot elements that try way too hard to do something they can't. I know I am would be.
  Harry's response to her question is… amazing. Here it is, completely uncut. I transcribed it for your reading enjoyment because it is simultaneously the greatest and shittiest thing muttered in one of these games:
           "This may sound really off the wall, but listen to me. You've
           got to believe me. I haven't gone crazy, and I'm not fooling
           around. At first, I thought I was losing my mind. But now I
           know I'm not. It's not me. This whole town… it's being
           invaded by the Otherworld. By a world of someone's
           nightmarish delusions come to life. Little by little, the invasion
           is spreading. Trying to swallow up everything in darkness. I
           think I'm finally beginning to understand what that lady was
           talking about."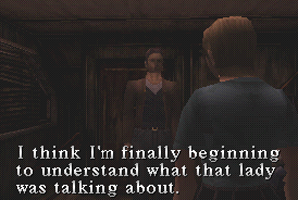 Ah, the legendary and sole joke in Silent Hill.
  In case you're wondering, that's eighty-nine words that basically amount to an "I don't really know, but I'm going to work that tiny hamster in my head to death figuring it out." Most of those sentences are pointless repetition and do nothing but take up space. Here is how you can say the same thing with most of the same words:
           "This may sound really off the wall, but listen to me. You've
           got to believe me. I haven't gone crazy, and I'm not fooling
           around. At first, I thought I was losing my mind. But now I
           know I'm not. It's not me. This whole town… it's being
           invaded by the Otherworld. By a world of someone's
           nightmarish delusions come to life. Little by little, the invasion
           is spreading. Trying to swallow up everything in darkness. I
           think I'm finally beginning to understand what that lady was
           talking about."
  Forty words. Less than half. You can knock it down even further by striking the blatant lies in red. Why are they lies? Oh, just because Harry claiming to understand anything, no matter how little, is clearly bullshit. Even if you don't believe me, when Cybil asks Harry to slow down (because she doesn't see what he does, perhaps?), he responds thusly: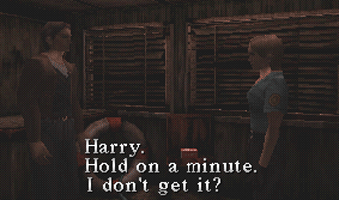 I clearly have no idea what I'm talking about, but listen to me talk about it anyway.
Also, and I realize this is a commonish mistake, but "I don't get it," is not in any way a question. Ten points from Gryffindor.
  Why the fuck did Konami think this was okay? Harry is such an utter goddamn dipshit with absolutely zero capability to respond to the world around him in anything but the most basic ways. Shine a flashlight in his eyes and maybe—maybe—you could get his eyes to dilate. Poke him with a stick and he might twitch.
  But lay out the least convoluted drug ring in the world with plenty of evidence to incriminate a guy who basically threatened to kill you? Nothing. Show him a picture of a girl who appeared to him twice? Nothing. Daughter missing? Won't tell you her name or what she was wearing, but will give you her age.
  We are piloting an amoeba, ladies and gentlemen.
  To reinforce the whole point, after announcing that he can't explain it, Cybil asks what's going on to make this happen.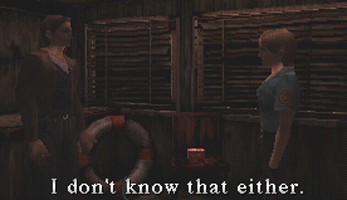 "DUUUUUUUHHHHHH."
OH MY GOD, HARRY! Why, fucking why, do you speak? Why did you claim that you knew anything, when all you've done is verbally run in circles?
  Speaking of which, remember the whole thing that caused this is finding out what happened to Harry's daughter? You know, the actual plot of this whole weird-ass adventure? What have we actually learned by now? We are sitting at about eighty percent done with the game, and what single thing can you tell me about Cheryl other than she's missing?
  Nothing. You can tell me nothing.
  Unless you played Origins or played this game before, you can tell me precisely zero about Cheryl. Every relevant thing is cloaked with unnecessary mystery and bullshit. Further, making it so that the main character is confused by everything doesn't translate into making the player feel confused. It just makes Harry look like a dangerous moron who, by all rights, shouldn't have been granted a driver's license or a permit to hold anything more dangerous than a blunted crayon.
  THIS. IS. NOT. GOOD. STORY. GOD. DAMN. TELLING.
  Long story short, this whole thing can be summed up with, "I don't know what's going on, but I'm pretty sure my baby is stuck somewhere in a nightmare dimension because reasons."
  And then, of course, Cybil questions his use of the word, there, he responds thusly…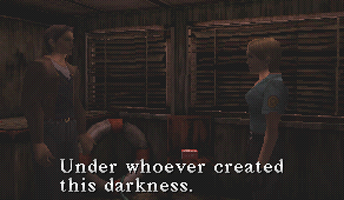 Um... that's... an interesting take on things, Harry.
Well, that's nonsensical. But to make it somehow even worse, Harry follows it up with a mighty: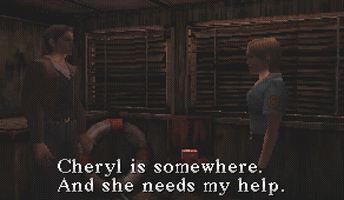 ...
Sure. She's somewhere. I will agree with you there. But how does this help anything in any way?
  To further support my argument that Cybil actually doesn't see what Harry does (or is, in fact, a figment of Harry's imagination), she tells him that he's distressed and needs to rest. At this point, I think it would be perfectly rational for the police officer to assume that this asshole has been lying the entire time considering he hasn't shown her a picture and we haven't actually seen a little girl outside of what may or may not have been a flying ghost child, but whatever.
  And suddenly, Dahlia.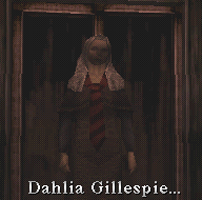 What's up, mother fuckers?
  Apparently, a demon is awakening and spreading wings or some shit. And then, after all the stupid shit she's vomited at us over the course of the game, she asks "Is it not as I said?"
  No.
  No, it isn't.
  You don't get to be a cryptic hermit and mutter vague claptrap and take credit for anything. It's not how it works. That's stupid, and you need to stop speaking.
  Sadly, she ignores my displeasure. She's all "The demon is gonna swallow up the land," and then she reiterates that she knew this day would come, because of course she does.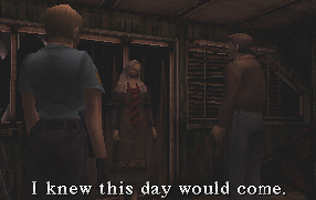 Included because, at this point, why the fuck not?
Well, supposedly knowing this shit is going to happen sure has proven to be most helpful up to this point, hasn't it you goddamn waste of oxygen? If you knew this day would come, you should have known not to fucking burn your daughter alive, huh? Oh, wait, you wanted this to happen because you're a dangerous fanatic. So… yeah, the fact that you knew this day would come is actually less impressive considering your orchestrated this shit.
  Well done, I guess.
  Because the plot hasn't moved a single iota since… um… ever, she says that there are only two more Marks of Samael Flauros to be made before… er… whatever it is Alessa is doing is finished. Which is… bad? I guess it's bad because the villain told us, and she'd never lie to us, right? Finishing the seals will condemn the town to hell or whatever, which is actually totally fine by me. I mean, seriously. After Origins revealed that just about everyone in the dump of a town was an asshole, evil, stupid, or an evil stupid asshole, I can't really say I'd miss the joint.
  Also, couldn't this information have been given to us earlier? It would have been a great way to actually tell us the supposed stakes instead of just, "Do this because video game."
  Then she goes on to give some general apocalyptic imagery. You know, standard things, like the sun being swallowed, the dead walking, and then everyone dying.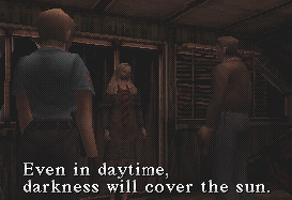 This is a pretty run-of-the-mill Ragnarok, Dahlia.
Not to point out logical flaws in your religious gibbering, Dahlia, but if everyone will die but the dead will walk, what's the problem? Boom. Checkmate.
  At this, Harry steps…
  Wait a minute. Everyone will die? Does that mean there are people to save in town? I mean, outside of like, the three here and the two others we've met? Where are they? Are you talking about the world now, Dahlia? Because you need to switch your subject. From all we've seen, Silent Hill is full of very dead people but not much in the way of the living. Five people dying after about 1,000 others have met the same fate, while tragic in their own way, is a bit on the "drop-in-the-bucket" side of things.
  Anyway, at this, Harry steps forward and says, "So what am I supposed to do? I've got to save Cheryl." Notice how he doesn't give a single damn about anyone else. Also notice how the person he is asking for direction is the one who has A) never given him clear direction, B) sent him to his next location when it's too late to stop whatever he is supposed to be doing, and C) has given him precisely zero indication that she knew or even cared about Cheryl's well-being before this point outside of a single vague bullshit line.
  "Simple!" Dahlia yells. Apparently, we are to stop the demon that is taking Alessa's form.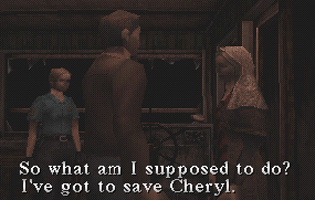 AGH, NONE OF THESE WORDS MEAN ANYTHING ANYMORE
Also, apparently Alessa is a child-form-taking-demon. This has not been mentioned before now, but it's going to be the crux of why both Harry and Cybil are now going to hunt down and "stop" (read as: "murder") a child.
  Now, Harry has no reason to believe that Alessa is a baddie. Like, at all. She appeared in front of him at the school when it when from the nightmare reality back to the non-nightmare version, but she didn't attack him. And she could have—she could have straight up murdered him with her brain. All she did was vanish. Now, you and I know that Alessa's not that villain here, but Harry has no reason to think so outside of Dahlia telling him, and she has done nothing to make herself seem trustworthy or reliable. No matter how you cut this, this impassioned plea seems way too sketchy.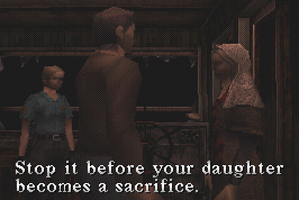 Look at my face. How could you not trust this face?
  But then she says that Harry's daughter (she doesn't use the name Cheryl) will become a sacrifice, and at that point our hero(?) becomes too blinded by fatherly rage to think straight. Awesome. He asks what he should do, and Dahlia says that he needs to get to the amusement park and the lighthouse, apparently by splitting himself in two.
  I told you he was an amoeba.
  Also, that's not telling the guy what to do, just to go somewhere. So it's nice to see Dahlia's perfect track record as being an usually chatty sign post is going unbroken.
  And once again, why couldn't we have gotten this information earlier? I think the idea that Cheryl was being held in preparation for sacrifice could have made Dahlia seem less a lying weirdo and more a general weirdo. I realize that they were trying to go for "slow burn" horror, like building up the tension over the course of the entire game, but for fuck's sake, when your players have no idea why they're running around doing stuff at the behest of a cryptic windbag, you're really hoping people mix-up "confusion" with "being scared".
  Also, we encounter a moment that signifies we're either far more fucked than initially considered, or Dahlia really has taken a vacation from reality: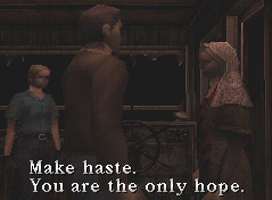 We put our faith in a man confused by wheelchairs!
Also, only hope for what, exactly?
  Since we're thankfully reaching the end of this bullshit conversation that has only served to muddy already opaque waters, Cybil says that she's in if it will save Harry's daughter, even if she has no clue what the hell is going on. She heads to the amusement park and, when Harry thanks her, she responds with what I'm hoping is flipping him off.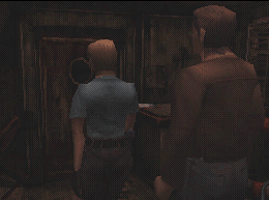 Sweet burn, Cybil.
  What's this? A perfectly sane reason to split up in a demon haunted town? Color me shocked!
  It is only after our officer friend leaves that Dahlia says that we need to use the Flauros to "stop" the demon, which is super great because Cybil doesn't have one, you stupid skin sack! We need to tell her to stop at the convenience store and pick up a spare!
  Also, how do we "use" the Flauros? Is there a switch? God damn it, game, make sense!
  To his credit, Harry asks about Cybil, but Dahlia leaves because she's evil. We're given control of the semi-sentient venereal disease known as Harry Mason, and we use him to ransack the cabin for a couple boxes of ammo and a health drink. After that, we avail ourselves of a notepad and save our game.
  I realize that I made a joke about it way up there, but it is pertinent to bring up that the entire conversation happened in a room with broken windows, implying that at any point the monsters could have waltzed right in and eaten everyone. Why didn't this happen? Is this a subtle clue that maybe what Harry sees isn't what everyone else does, supporting my claim that Cybil isn't witnessing the nightmare? Or is it a lazy oversight?
  Don't expect that to be answered now or ever! Instead, prepare yourselves for the abrupt end of today's episode! Join me next time for The Shortest, Yet Most Annoying, Dungeon in the Whole Wide World.
BONUS: Listen to this amazingly pointless conversation! The best part is Dahlia chewing the ever-living shit out of the scenery when she gets on a roll about the apocalypse. Religious fanatics are so cute when they become frothing maniacs.
< PREVIOUS ENTRY • NEXT ENTRY >
Advice • Fiction • Gaming • General Musings • Reviews