It's another round of Traipsing Through Silent Hill, post-insect apocalypse edition! I'm your host through this wasteland of smoke and mirrors, Jonathan Charles Bruce! When we last left Harry, he had received an awkward television broadcast from his daughter sorta-maybe and fought a goddamn caterpillar. Said caterpillar launched itself through the front doors of the mall we were fighting in, thus breaking it enough for Harry to wander through and continue his journey back to the hospital. It was broken already, but I guess the caterpillar was A) too stupid to slither out of the already-existent hole, or B) being considerate to the developers and trying earnestly to cover their oversight.
  After successfully driving off the arthropodal menace, the task at hand is to weave our way through the streets of the business district. The streets have entirely new holes in them, so trying to go down a direct path isn't going to work.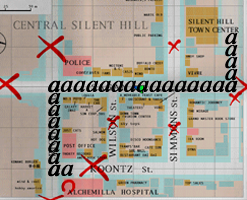 Just follow the screams!
Luckily, it's not too difficult to figure out.
  The nightmare version of the city streets is actually super badass aesthetically, even if it doesn't make a lick of sense. Namely, the presence of a corridor of windmills…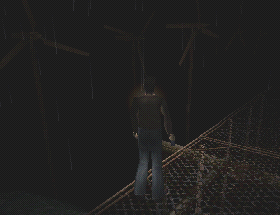 Today's shocking reveal: Silent Hill is in the NETHERLANDS!
… is really the kind of surreal imagery the game needed far more of. See, this is less overtly scary and more unnerving—it is wholly discordant with the world we are familiar with and is thus far more effective at making the player feel ill at ease. Smearing everything with a layer of extra chunky spaghetti sauce will not have nearly as much of an effect as this.
  Of course, it wouldn't be Silent Hill's wonderful nightmare reality without monsters, and while we are going to run into simians and dogs, we are also introduced to a re-skin of the demon birds. Like the dogs, they now have very extra-lumpy skulls and a delicious crust of barbeque where their exposed muscle tissue once was.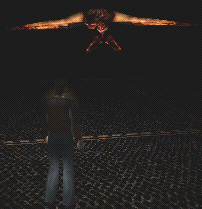 What's wrong with your face?
They also have a terrifying screech—probably the single most frightening sound effect up to this point. As if that weren't enough, they also have an improved engine, making them much faster than before.
  Unlike the demon gulls, crispy birds tend to just absorb your ammo if you try to stand and fight—meaning that they will take up to three or four shots and then speed off, never to swing near you again. Which I guess is useful for discouraging them from eating your face. If you want to drop them for good (for whatever reason, as they endlessly respawn), you need to either nail them with the pistol more than four times on their approach or blow two shotgun shells on them. But as before, being outside during the darkness means that if you try to fight, you're going to be dogpiled. Which means running is the safest option.
  Also, that whole endless respawn thing. Can't stress that enough.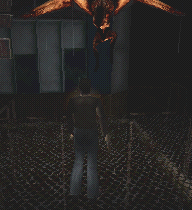 Also, it will occasionally stop giving a fuck and just do this.
  That is with the exception of the fact that if you happen to be able to dodge the future four piece bucket's clawing attack, it is just fast enough to correct course and launch another attack within a second or two. The only way I've reliably been able to dodge the assholes is by circling back around them, but that puts you face-first with the line of monsters already gearing up for hardcore Harry-cide.
  Long story short, as you're running, just let the crispy birds hit you and then continue on your way. It's the only way to not spend an eternity prying demon teeth out of Harry's scrotum.
  Anyway, your initial impulse, like mine, is to just run through the night toward the hospital. And honestly, it's not a bad idea. Unlike the time we went to Midwich, the streets are porous and don't really respond well to the light being off. Meaning that you could potentially end up running in place as Harry somehow avoids falling into the abyss, leaving you none the wiser. As such, you're going to get a lot of unwanted attention because of that goddamn light.
  In my normal run play through, this meant that I spent what seemed like several very hectic minutes (but was probably only one, very tense minute) running with a veritable conga line of monsters trailing me. I took three hits to the head thanks to the crispy birds, every one of which took me by complete surprise and scared the hell out of me. I was too focused on escape that I didn't even duck into the menu to heal up, even though I was sure that I was in critical condition by the time I emerge, breathless, in the hospital waiting area. It was super hectic and panicky, and holy shit, it was amazing.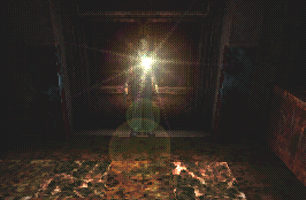 I DON'T EVEN CARE IF LISA JUST MUMBLES FOR ANOTHER OVERLONG CUTSCENE I'M SAFE AND I'M NEVER GOING OUTSIDE AGAIN.
  And then I checked the menu and saw I was still in green health. So all that tension went right out the goddamn window.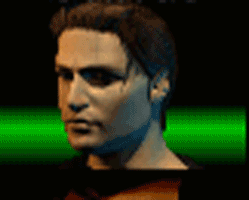 The face of tensionlessness.
  Yeah… for the aesthetic and speed upgrade, the crispy birds are actually laughably weak. So have some nightmare world storefronts to make up for it!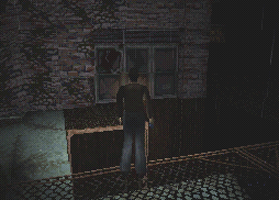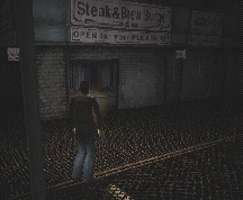 I think we should eat somewhere else, Harry.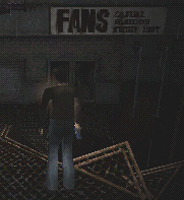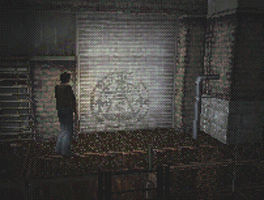 Well, at least we know where the fans are coming from (it's actually a clothing store).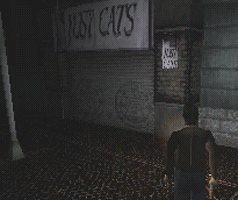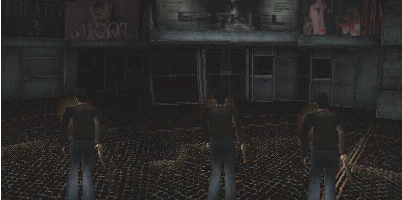 But where are we gonna find a store that only sells cats?
Also, Shoot, Ezekiel, and Dan--outside of the Die Hard knockoff, these sound like terrible films.
  I actually love how this little section of the game is designed. The monsters are fast enough to keep pressure on you. Regardless of how little damage the things do, the question of numbers clearly puts Harry in a dangerous position. On top of that, the visual cues that we've used for moving about town are all gone now, forcing the player to literally paw about the dark looking for their destination. Even if there isn't a wall of monsters, it still feels that if we stop, we die, which is a sense that is certainly supported by the kickass soundtrack. That's awesome and it's a fucking shame this it took this long to happen. It's also a shame that the monsters are just as ineffective at harming Harry as he is of asking pertinent questions, but whatever.
  Now, theoretically, you could turn your light off and walk toward the hospital, thereby minimizing your sound and sight profile to the point where you can easily skirt by horrors unnoticed. And if you do that, well, cool. I hope that particular brand of slinking-in-the-dark terror is nearly as awesome as my running-blind-and-getting-mauled terror certainly is.
  Now, if you do feel the need to explore, you can actually head on over to the police station and pick up a box of bullets and rifle rounds. You can't go into the side office, but there is a save point in addition to the rusty metal makeover. This is entirely optional, and may not be in your best interest considering how well provisioned/terrified you are. But, hey, the option is there. I certainly didn't do it my first go 'round—it took my easy mode screenshot session to find that little tidbit.
  Anyway, Alchemilla!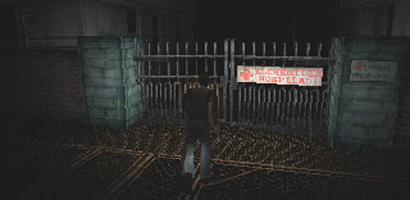 *huff* *puff*
It should be noted that not only did the road lead here, but there is literally no other way to go. The chain-link disappears into the unending night, and that's all there is to it. Keep this in mind.
  Once inside the relative safety of the hospital, the only place we're allowed access to is the exam room. In there, we are greeted by Lisa, who I guess is happy to see Harry. You know she's in deep trouble when her first reaction to seeing this dipshit isn't either vomiting or punching him in the dick. Anyway, Harry lies about being happy to see her and Lisa thanks god that Harry came back because she was super scared to be alone.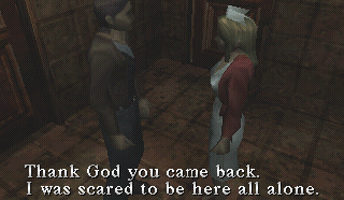 Pictured: A better alternative to being alone and surrounded by monsters. Maybe.
  Harry's all, "I'm here now. I was worried, too." Um, worried about what, Harry? Lisa? I doubt that. You have shown no compassion to anyone or anything that wasn't your magical flying daughter. You want to know how I know that you're lying through your fucking teeth, Harry? Because you immediately ask the terrified young woman in front of you, "Lisa, can you tell me how to get to the lake?"
  Fuck you, Harry. You are just the fucking worst.
  Since he doesn't tell her the major thing—that the road is out—Lisa naturally tells him to take Bachmann Road. Harry, being the complete wastrel he is, then informs that her the road is blocked. Now he doesn't say it all superdouchey, so that's a step in the right direction. But he still also never tells her the reason why he needs to go there, so it's still an off-brand kind of douche.
  Regardless of the tone, the conversation literally comes off as:
  LISA: Oh, my god, Harry, I'm glad you're not being digested by monsters!
  HARRY: Yeah, sure, whatever. Look, you know how I can get to the lake?
  Do you begin to understand why I fucking hate this guy?
  Anyway, Lisa insists that it's the only way, but because Harry insists that there has to be another way. And then, because PLOT, Lisa has an epiphany.

Jinkies! Convenience, Scoob!
She says that there's a waterworks by her elementary school that has been abandoned for years. Why they abandoned a functioning waterworks without sealing the entrance is beyond me, but whatever. She recalls—from what I assume are the many, many conversations she's had regarding old public works projects—that apparently the tunnels run all the way to the lake.
  Then, because this is Silent fucking Hill, Harry asks a question about she just fucking said.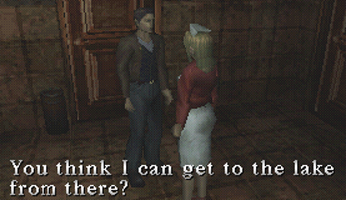 This game would have thirty seconds of cutscenes if we trimmed all the line repetition.
  Now, Lisa basically says to not get his hopes up, because she hasn't been there and it's fenced in to keep people out. But Harry is all, "MAH BABBY FELL DOWN THAR AND I NEEDSTA GET HER OUT," and I'm all "Whatever dude, just don't break anything."
  Then Lisa pleads with Harry not to go because she is—justifiably, mind you—abso-goddamn-lutely terrified about what's going down. And right when I think that Harry is completely going to give this woman the bird and walk out, he actually surprises me: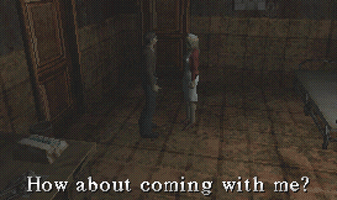 HARRY, YOU DI... wait, what?
He actually suggests that Lisa comes with him.
  Ignoring the fact that, in the brief time that Lisa has known him, he has passed out twice on top of the other times that we've seen him take a nose dive because the plot demands it, it's actually both reasonable and noble that he suggests this. Sure, if he had done what I had suggested and picked up a second rifle, he could have armed her, too (or just given her the pistol, even), but whatever.
  Lisa responds by claiming, "No… somehow I feel I'm not supposed to leave this place. Oh, Harry, I'm so scared… I'm cold."
  Right there, folks. Right there is when we know something is wrong with Lisa. And I'm not talking about her nose candy habit.
  Harry's response isn't to try to convince her (shocking, seeing as how we are really under par on useless line repetition), but pretty much just "KTHNX, BYE".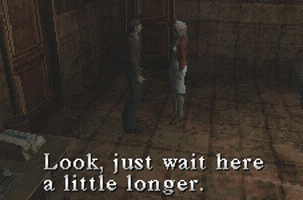 Whatever, Lisa, I gots shit to do.
Our hero, everyone!
  So, yeah, he just leaves her behind. I know that there are gameplay limitations, but couldn't there have been something preventing them from going off together? I mean, something more than a bad feeling? His response, in terms of dickbag Harry, should have been: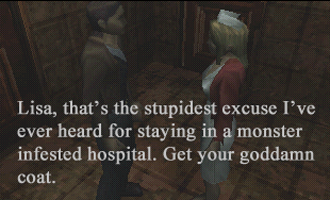 Harry Classic
Or, if he wanted to continue not being a shithead: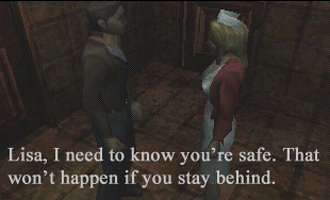 Alternate Universe Harry
  But whatever. A wizard commands Lisa to stay put, so she stays put.
  Anyway, I asked you to pay attention to the fact that all the roads are out. See, I'm not entirely sure how Harry intends to get there, let alone how he intended to get there with Lisa. I mean, this isn't exactly something you can overcome with the power of positive thinking, Harry. If it was, you could just do that to get to the lake and forgo the oh-so-exciting sewer level that's coming up.
  With a fair amount of trepidation and a lot of no fucking idea how to get to the water works, I guess our next course of action is to venture out into the hoary netherworld and… eh?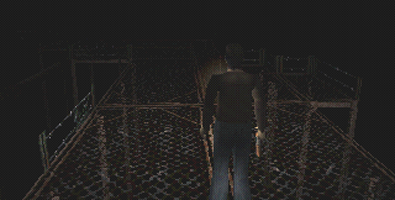 That's... not good.
The street has been replaced with a walkway to the structures parallel to the hospital. In other words, we have a path leading to the post office, and nothing else. This seldom is a good sign. Nevertheless, we shall journey our way across, march on up the fire escape, and be dropped right into a cutscene where Harry walks a bit more onto the roof and OH MY GOD HA HA HA HA HA HA HA HA HA!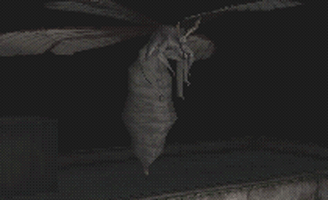 Behold, the Destroyer of Worlds!

Wha? Who? What? Why? Why are the second and third bosses of this game a fucking caterpillar and a moth!?
  Okay, I know that there's a legitimate reason for it. But just because you have a reason for it doesn't make it any less stupid or any more frightening. It's a moth. You can kill them by leaving a porch light on and having them brain themselves on it.
  So, the moth boss fight. The boss has two attacks—it hocks poison in a wide arc that will overshoot you if you stand too close. It also has a butt-slap. As in it slaps you with its ass, not it slaps you on the ass. Don't be stupid.
  You have limited maneuverability and the moth will almost always just be floating lazily toward you, so this fight typically consists of standing your ground and emptying 28 fucking shells into an invertebrate and maybe—maybe—chugging a health drink when needed. It is almost impossible not to get hit in this fight—if you try to be fancy, you'll probably be nuked by the poison. If you keep close, you will face the might of the thing's ass.
  Also, on easy mode, you can literally just stand in place with the emergency hammer and kill it in 13 or so heavy swings or about 20 flailing swings. You won't even have to heal. I'm not even kidding. The boss loses a damage race with a melee weapon. In fact, it loses a damage race with the pistol, shotgun, and rifle, too. Why is this thing even here?
  I mean, outside of proving without doubt that the emergency hammer is the "you win the game" weapon? Because seriously, that shit is awesome.
  Really, this is just so fucking stupid. There's no real challenge or finesse. Moths aren't scary and they put absolutely no effort into making it anything than just a big-ass bug. At least the caterpillar had something approaching a strategy for it. The entire thing is as boundlessly joyless and boring as it sounds: it's just an author standing on the roof of a post office murdering a moth with a shotgun.
  After you unload about 28 shells, 23 rifle slugs, 41 handgun bullets, or 13 good pulping whacks with the hammer into it, the beast does this while sirens blare in the background: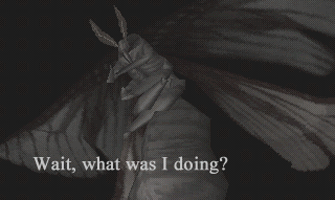 Dopey fuckin' moth.
The boss happened to be carrying the weight of the nightmare reality with it, and so we are booted back to the real world.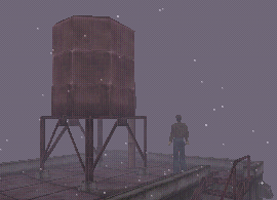 No... that was the stupidest thing I've seen all goddamn day.
  I'm guessing when Harry tells his grandchildren about this, he's going to leave the "duel with a moth" part out of it.
  That's all for today! Join me next time for A Fucking Sewer Level.
BONUS: If you were wondering what the cocoons in Silent Hill: Origins were doing on the post office, well, here's your answer!
Moth Cutscenes:
You do realize this implies that the giant fucking moth snuck up on Harry?
< PREVIOUS ENTRY • NEXT ENTRY >
Advice • Fiction • Gaming • General Musings • Reviews